What is Climate Justice?
12th October 22
"Reforesting Minds," is associated with a metaphorical concept of restoring or rejuvenating the human mind in the context of historical and modern colonization. When reforesting our minds we reforest similar to how reforestation aims to restore and replenish forests. This involves activities related to decolonizing our minds, mental health, personal development, or cognitive well-being which influences our bodies and the actions we take. Sonia states that it's important to reflect on the following: a popular global mindset that non-Indigenous Peopless are separate from Indigenous Peopless and nature. Rather than trying to maintain this separate relation individuals or communities should think about joining forces and opening collaborations with Indigenous Peopless, afterall "Indigenous Peopless make up around 15 percent of the world's extreme poor and just 5 percent of the global population" and "protect 80 percent of the world's remaining biodiversity" (State of the Environment Report 2021)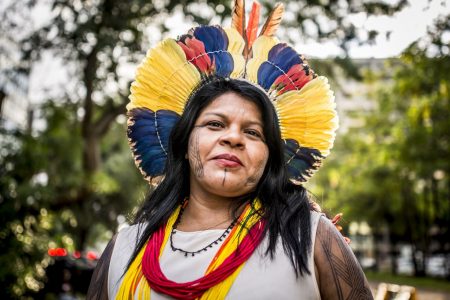 Sonia Guajajara
Activist & Federal Deputy
Sonia is from the Guajajara/Tentehar People, who inhabit the forests of the Araribóia Indigenous Land in the state of Maranhão, Brazil. She stands out for her fight for the rights of Indigenous Peopless and the environment. Sonia was the first Indigenous woman to be elected federal deputy for the state of São Paulo in Brazil […]
See speaker profile
How to amplify ancient wisdom?
It is only through re encountering with Mother Earth, her keepers and their ancestral knowledge that humanity can hope to save itself. The spiritual connections of indigenous peoples and local communities have the wisdom to shift our future.
Watch next
Decolonize your mind, reforest it. Think about collective action rather than centering on individualism.